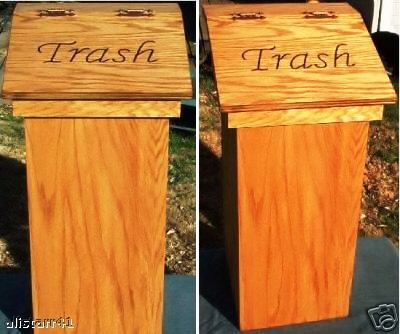 Folks, these beautiful wood kitchen trash cans that we make, can be yours for $79.99, and folks, going by what my customers have said, it will add charm to your kitchen decor.
The measurements are 29 inches tall and 14 inches across the top. The trash cans uses the tall trash bags, 13-gallon or 15-gallon.
Folks, using this trash can is so simple that no one can use the exuse, I would have emptied the trash... but I didn't know how to. Just remove the top... slip in the trash can... place top back on... and have fun!
I personalized the lid at no extra cost... that is if you want the lid personalized. Some folks like TRASH on the lid, others like for example, MARY'S KITCHEN, KATHY'S KITCHEN, BOB'S KITCHEN or for a business for example, COFFEE HOUSE, JOE'S DINER whatever you wish I will do it for you. The lettering is hand burned into the wood lid at a temperature of 1200 to 1800 degrees, another craft that I have been doing for over 40 years.
Afterwards we apply the stain that you want us to put on it... the stains that we off are as follows, EARLY AMERICAN, GOLDEN OAK, COLONIAL MAPLE, ENGLISH CHESTNUT, RED OAK, CHERRY, GOLDEN PECAN, IPSWICH PINE, SPECIAL WALNUT. The stain you see on the trashcan in the picture is Golden Oak. (Please observe the Minwax Stain Chart at the bottom of this page) We also apply 3 coats of Minwax Polycrylic finish for added protection and beauty.
Folks, this beautiful trash can is built to last. The lid has strong colonial style hinges on it. And due to the weight, it will be very hard for a dog to knock this 30 pound trash can over.
God bless and have a good day.
TO ORDER KITCHEN TRASHCAN FOR $79.99 JUST CLICK THE ADD TO CART BUTTON (PLACE ALL YOUR INFORMATION PERTAINING TO PERSONALIZATION AND STAIN CHOICE IN MY CONTACT FORM AND SEND IT ON)