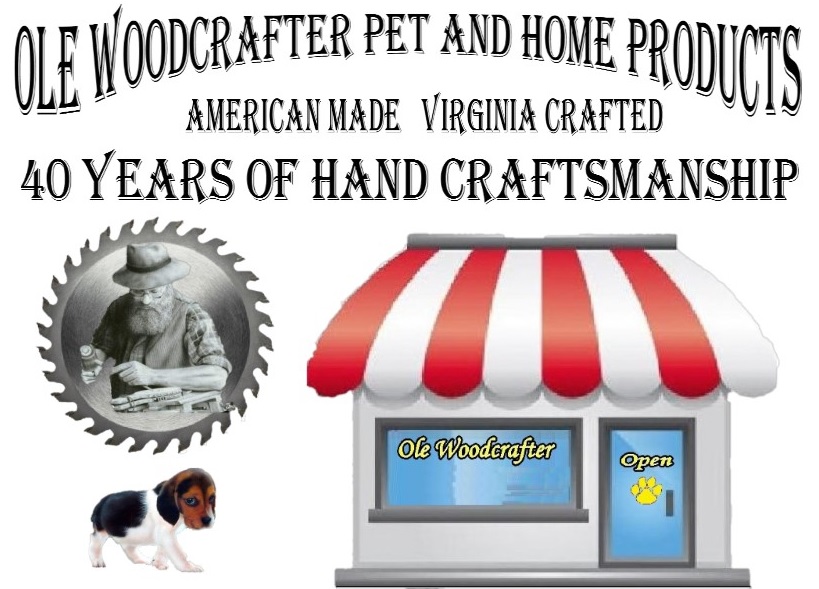 BEAUTIFUL PET FOOD CONTAINER $79.99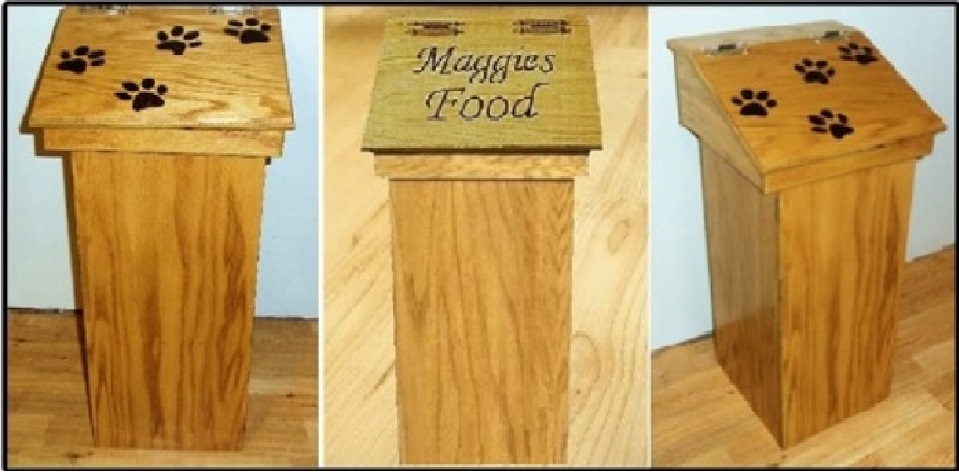 Hello folks, I am the Ole Woodcrafter.
For forty years the wife and I have been handcrafting products, this beautiful pet food container is just one of the many items.
I created the wooden pet food container due to me being peeved of seeing that ugly dog food bag ripping and the contents going everywhere. I was getting tired of cleaning up the mess, and not only that, I discovered that mice love dog food and they were ripping open the bottom of the bag to get to the dog food. Since I now store the food in the wooden container, both problems were solved.
The container holds a good 40 plus pounds of dry pet food (EXAMPLE KIBBLE AND BITS OR PEDIGREE)
And folks, that is not all, at no extra cost to you… I can personalized the lid with your pets names on it, for example… Your pets name plus food (MAGGIES FOOD) or PET FOOD, DOG CHOW, PET CHOW, CAT FOOD OR I CAN LEAVE THE LID BLANK… I can put a few paw prints on it.
The beautiful wood burning on the lid, I personally do by hand at a temperature of 1200 degrees, a craft by itself that I have been doing for forty years. The craft has a name, which is called pyrography, which means in Greek… writing with fire.
This beautiful item is hand stained in a beautiful Golden Oak, and then applied with 3 coats of polycrylic finish.
Folks, when it comes to the lid, you will find that no cheap brass hinges were used. I only use the strong colonial style hinges that will stand up to wear of everyday use.
If you should choose to purchase this item, either for yourself or as a gift, at Christmas we sell a lot of our Pet food containers… you will find in the hand manufacturing that great care in craftsmanship was used throughout.
Built to last and at a very affordable price, this gorgeous wooden Pet food container is a hard item to beat for its construction, beauty, and price.

YOU ASK, can I have it stained in another color? Sure can, and at no extra cost to you. (Please see Minwax stain chart at bottom of page)
I OFFER… Early American, Cherry, Golden Pecan, Red Mahogany, Special Walnut, Colonial Maple, English Chestnut, Red Oak, Ipswich pine Golden Oak. GOLDEN OAK IS WHAT IS PICTURED ON THE PET FOOD CONTAINER.

JUST LET ME KNOW WHAT INFORMATION THAT YOU WANT, AND STAIN COLOR BY FILLING OUT MY QUESTION FORM, OR BY SENDING ME AN EMAIL, OR PLACING THE INFORMATION IN THE PAYPAL INFORMATON BOX. NOT TO WORRY, I WILL CONFIRM BACK TO YOU THAT I HAVE YOUR INFORMATION.
God bless, and have a very good day.
Ron Snider Ole woodcrafter
To purchase the beautiful pet food bin for $79.99,
click on the add to cart button.